Bundy: Sue Curtis (Confessed)
           We're nearing the end of our Bundy series and today's post will cover one of the last cold cases he confessed to while on death row. Let's explore.
Who Was Sue?
            Again, the old refrain. There isn't a lot of information about Susan Curtis online. We have no information about her childhood or her family. She was born on May 18, 1960. We know her mom's name was Marilyn and she had a sister. We know that Susan went by Sue or Sue-Sue in her personal relationships. Based on what we know of her activities, she was very determined and responsible – for example, she rode her bike fifty miles from Bountiful to Utah to attend the youth conference she disappeared from. She was very athletic and involved in extracurriculars at Woods Cross High School. Though there were some reports of Sue having run away from home in the past, she seemed relatively happy and she always returned home of her own accord. In 1975, she was 15 years old. She stood at 5'7" tall and weighed around 120 lbs. She had brown hair and hazel eyes. She had pierced ears and had braces at the time of her disappearance. And that's all we really know about Sue.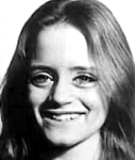 The Disappearance
            As stated above, Sue had ridden her bike from Bountiful to Provo, Utah to attend a conference at Brigham Young University. June 27, 1975 was the first day of the conference. She attended a formal ball that night, which was meant to kick off the conference activities. She was dressed for the occasion, in a floor-length yellow dress. She was last seen departing the party after telling some friends she wanted to go back to her room to brush her teeth. Her room was about a quarter of a mile away from the hall in which the party was held. It is not known for sure if she made it back to her room, though the toothbrush was dry and clearly had not recently been used when investigators arrived to search for signs of Sue.
The Investigation
          The investigation was seemingly taken seriously once Sue's disappearance was noted, which is a surprising change of pace. I feel the need to point this out after having so many cases considered runaways right off the bat. And Sue did have a history of leaving home unannounced, running away, but that did not stop the investigators from taking the disappearance seriously. This is likely due to the fact that, at this point, there was a stream of missing young women in Utah, and investigators knew that the cases were likely linked. They had no time to waste. For what it's worth, all investigations should be treated with swiftness and tact. Just have to throw that out there.
        Newspaper articles issued calls for information and encouragement for those with information to report their tips to the Brigham Young University security office. The only sighting that surfaced was from a professor at BYU, who claimed Susan was at the back of his classroom attempting to sell a textbook. Though he did identify Sue from a provided photo, this sighting is highly contested. This was seemingly the only lead investigators were able to find, and it led nowhere. The case eventually grew cold – and it remained that way, all the way up until 45 minutes prior to Bundy's execution, when he confessed to abducting and murdering Sue.
The Bundy Connection
          This is another one of those maddeningly vague Bundy confessions. He confessed to taking a young girl from the Brigham Young University campus in June of 1975. He then was given maps to identify where he had hidden her remains. Bundy pointed to a spot just south of Price, Utah, which is about 60 miles southeast of Provo. He was detailed in giving directions to the burial site, but details of the abduction and actual murder were not offered. Sue's murder was one of the last Bundy confessed to before heading to the electric chair.
          After the confession, investigators in Utah followed those detailed directions to the supposed site of burial armed with metal detectors. Remember, Sue had braces at the time of her disappearance. Even if she were buried, the metal detectors would have picked up on them. Unfortunately, nothing was found at that site or anywhere else. The location of Sue Curtis's remains remain unknown.
Investigating Agencies
          If you or anyone you know, please contact the proper authorities. Sue and her family deserve to find any small measure of closure that can be afforded to them. Sue deserves to be back with her family and have a hallowed final resting place. Any tips or information should be- passed onto the Brigham Young University Police at 801-422-5208 in reference to case number 14BY00782. The NamUs case number for this case is 27748.
Sources