The Missing: Ruben Humberto Herrera
          This month's missing persons case is one that does not get a lot of coverage, despite the strange nature of the disappearance – a missing young man, a $300,000 ransom, and a distant family member claiming to know the young man was dead. What happened to Ruben Humberto Herrera on the morning of April 27, 1983? Let's explore.
Who Is Ruben?
          Not much is publicly known about Ruben's life prior to his disappearance. He was born on January 31, 1969. His nickname was Ru. He was thin, short for his age, and had a fair complexion with freckles. At the time of his disappearance, he stood at around 4'8" tall and weighed around 95 lbs. He had short brown hair and brown eyes. It is unknown what clothes he was wearing at the time of his disappearance. If you know more than these basic facts about Ruben, I would love to hear more.
The Disappearance
          On the morning of April 7, 1983, Ruben Humberto Herrera left his home to head to Eastwood Knolls Elementary school. Eastwood Knolls Elementary, now known as Eastwood Knolls International, is a combined elementary-middle school that serves grades Kindergarten through Eighth.  Ruben apparently never made it to the school as he was marked absent. The school, however, apparently did not contact Ruben's parents regarding this unexcused absence, as he was not reported missing until he failed to return home after school that afternoon.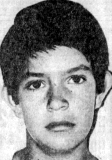 The Investigation
          On the afternoon of Ruben's disappearance, his uncle received a call. It is unclear whether this was before or after Ruben was officially reported missing. Ruben's uncle, Miguel Zaragoza, reported that the caller spoke in Spanish and claimed that "the boy is all right." The caller then demanded a $300,000 ransom in exchange for Ruben. Zaragoza was a wealthy man, having built up a fortune through a gasoline business, which explains why the ransom call was directed at him and not Ruben's parents. The ransom was scheduled to be dropped off at 9 PM on the night of the disappearance. Zaragoza and one of his brothers – not Ruben's father, a second brother – were to bring the money to an El Paso Dennys. They obeyed the orders, but the ransomers did not show.
          The family again reached out to the police, and investigators were ready when the ransomers called Zaragoza again two days later. In this call, they claimed Ruben was in Juarez, Mexico. They also told Zaragoza to wait at a specific payphone for instructions on how to pass off the ransom in exchange for Ruben. When the call came in, the FBI was able to trace the call to a secondary pay phone.
          A man named Raymond Henry Acosta was the man making the call. Acosta was Ruben's stepfather's brother. So we seemingly have Ruben's step-uncle extorting his paternal uncle over his kidnapping. When speaking with investigators, Acosta claimed that Ruben was deceased, despite having no evidence to prove this claim. It is also believed that Acosta was responsible for an attack on Ruben's grandmother a few weeks prior to his disappearance. She was able to escape unscathed, but a message at the scene read "don't call police or I will kill her." The attack is considered a botched ransom attempted.
          According to authorities, it is believed that Acosta and possibly yet-unknown co-conspirators transported Ruben into Mexico in a 1977 Cadillac Seville. The color of the vehicle was thought to be black and either silver or light green. Acosta pleaded guilty to conspiracy to commit kidnapping in 1983. A separate extortion attempt for $500,000 against Zaragoza was linked to Mario Javier Martinez, who was charged in 1984. His case was dismissed for lack of evidence, though. It is unclear whether Martinez and Acosta were working together.
          Shortly before Acosta's death in 2012, he claimed that the kidnapping was orchestrated and carried out by someone else, and that his only role was to collect the money. He did not elaborate further. At this point, Ruben's mother, father, and stepfather have been ruled out as suspects. Then, the case went cold until a South American man came forward claiming to be Ruben. This man reached out to a nonprofit, hoping to get his immigration status set right. He also wanted Ruben's social security number and an address for his sisters in El Paso. It is unknown whether any testing has been conducted on this man, despite eight years having passed since he came forward. Ruben is still considered a missing person, which makes me think this man was an opportunist hoping to take someone's identity.
Theories
          There aren't many theories in this case considering how the investigation went. It's generally accepted that Ruben was kidnapped and held in Mexico. The vast majority of theories diverge from this point. The first theory we will look at is that Ruben was indeed kidnapped, held in Mexico, and murdered. This is what Acosta claimed happened, and I don't really see any evidence to refute that at this point. Unless something or someone comes to light, this seems to be the most likely theory. On the other side of the coin, it's possible that Ruben was not murdered and he either escaped or was released. With the man coming forward in 2013, this theory gained renewed hope. But that man was never confirmed or refuted to be Ruben, so there is nothing really pointing towards either of these theories apart from Acosta's word.
          The third and last theory I want to discuss is one I have not seen posited anywhere, so this is all speculation on my part. I think it's possible that Acosta or someone acting in accordance with this ransom scheme accidentally killed Ruben in the process of the kidnapping. They then would have panicked and hidden Ruben's body somewhere in order to still attempt to extort the Herreras. Of course, just like all of the other theories, there is no concrete evidence either for or against this theory.
Investigating Agencies
          If you or anyone you know has any information regarding the disappearance, kidnapping, or murder of Ruben Humberto Herrera, please contact the El Paso Police Department. The contact person for this case is Detective Michael Aman. The department can be reached at 915-832-4400 in reference to case number 01360217. It has been nearly 40 years since Ruben vanished. Regardless of what happened to him, he and his family deserve closure.
Sources