Bundy: Denise Oliverson (Confessed)
Today's case will cover our second Bundy victim in Colorado – she disappeared less than a month after Julie Cunningham – though she vanished from Grand Junction, which is nearly 150 miles away from Vail. Denise Oliverson was another kind person that Bundy allegedly snuffed out. Let's explore.
Who Was Denise?
Despite the amount of information out there about Denise's disappearance and Bundy's confession to her abduction and murder, there is depressingly little information available about what she was like in life. We know that she was born on August 10, 1950. She lived in Grand Junction, Colorado her whole life. Her friends described her as being a great, kind person. In 1970, she married a man named Joe Oliverson. In 1975, that marriage was going through a rocky patch. And that's about all we know, besides her vital statistics. Denise was last known to stand at about 5'4" tall and weigh around 105 lbs. She had brown hair and blue eyes.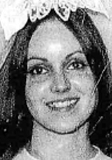 The Disappearance
On the afternoon of April 6, 1975, Denise left her Grand Junction area home in anger. She had apparently been in an argument with her husband that afternoon and they could not reach any sort of understanding or resolution – we've all been there, talking in circles, making no progress, only succeeding in getting more and more frustrated as the argument wears on. In an effort to cool off, Denise removed herself from the situation. She hoped a bike ride would help clear her head. She apparently had a habit of riding to her parents' house when she needed a break from her husband. At least, that's what he figured she was doing that afternoon. But that was the last time he would ever see her – wearing a green long sleeved shirt with jeans and sandals, riding her yellow 10-speed bike away from him.
The Investigation
Denise was reported missing on April 7th, when her husband called her parents to see if she was planning on coming home, only to find out she'd never made it to their home in the first place. Police seemingly jumped into action, mapping out Denise's most likely route and searching the roadside along it. Their search was fruitful – her bike was discovered only a block from her home, beneath a viaduct. Her sandals were found alongside the bike, almost as if someone had tossed both items beneath the viaduct so they could not be easily spotted from the road. This all but confirmed the idea that foul play was involved in Denise's sudden roadside disappearance.
Unfortunately for Denise's family, the leads began and ended with that discovery. They were forced to sit back and watch as the case grew cold. There don't seem to be any reports of any tips or leads until Bundy confessed on death row in 1989.
The Bundy Connection
Again, there are two parts here to link Bundy to Denise's disappearance. First, investigators discovered gas receipts that placed Bundy in the Grand Junction area on the day that Denise disappeared. And second, of course, Bundy confessed to her abduction and murder. According to Bundy, he somehow got her into his car and strangled her to death. He then drove about five miles west of Grand Junction, which would have put him near the Utah border. He claimed to have placed Denise's body into the Colorado River. This is a point to be emphasized because Bundy typically either placed his victims in the wilderness or buried them. As of the writing of this post, Denise's remains have not been discovered.
Investigating Agencies
Though Denise's case has been officially closed, her remains have never been located. If you or anyone you know has information regarding the whereabouts of Denise Oliverson's remains, please contact the Grand Junction Police Department at 970-244-355 in reference to case number 751585.
Sources