The Unnamed: El Dorado Jane Doe
        This month's Jane Doe case is very, very different than any of the cases I've covered in the case. We know details of what this Doe was like in life, because we know her killer and how he spoke to her. However, things are complicated by the fact that the El Dorado Jane Doe was living under a false identity and, judging by the lists of aliases linked to her, had been for a long time. So the main question we're asking is still Who Was the El Dorado Jane Doe? But in addition to that, we also have to ask ourselves why she obscured her true identity so thoroughly. Let's explore.
El Dorado Jane Doe's Many Names
          On the night of July 10, 1991, a couple was staying in room 121 of the Whitehall Motel in El Dorado, Louisiana. The man, James McAlphin, would end up shooting his companion dead by the end of that night. Their history had been rocky. He'd hurt her before. She was a frequent visitor to hospitals in the area, always battered and broken by this same man. There were whispers of forced sex work and manipulation. It was clear that the El Dorado Jane Doe had been in an abusive relationship with McAlphin, one that had ultimately led to her demise.
          But the mystery only deepened when police began to investigate the murder. They knew who killed her, but what they didn't know was her name. They found a bible with Jane Doe's belongings listing names from the Stroud family. She had an Arkansas ID listing the name Cheryl Wick – this identity was stolen from the actual Cheryl Wick of Minneapolis, MN, who stated she knew no one matching Jane Doe's description. They traced Jane Doe back to early 1991, when she used the name Kelly Carr. When asking acquaintances about her, they discovered that she danced at a club and went by the name Mercedes. By tracing all of these aliases, investigators determined she mader her way through Texas, Arkansas, and Louisiana. They believe she lived in or hailed from Florida, though it has not been publicly revealed why this conclusion was drawn.
          Infuriatingly, McAlphin claims he knows who the El Dorado Jane Doe really was, and seems to insinuate that she is linked to more cold cases than her own. I tend to disbelieve this heavily, because if he truly knew, why would he not have used that as a bargaining chip in his sentencing? It just doesn't make sense. It feels like some sort of asinine power play. The only reason I can think of for him not coming forward with what he knows would be that he has some role in her getting into trouble in the first place. Could it be possible that McAlphin or an associate of his sex trafficked Jane Doe? At this point, with what we know, I don't think we can rule anything out.
Physical Description
          The El Dorado Jane Doe was estimated to be somewhere between 18 and 30 years of age at the time of her death and likely fluctuated between 150 and 162 lbs. I can't find why there is a range here, as her body was fully intact and should have been able to be weighed for an accurate measurement. She stood between 5'10 and 5'11. Her eyes were blue and her hair was brown, though she seemed to be in the habit of bleaching it light blonde, based on the  photos available. Her complexion was fair and she had freckles. She had a small mark on her left breast, either a birthmark or a scar. Both ears were pierced at least twice. At the time of her death, she was wearing blue acid-washed jeans, a white t-shirt, white socks, and white shoes. Her only jewelry was a single gold bracelet.
Possible Identity
          As I discussed in the opening of this blog post, this case is interesting because we know so much about the El Dorado Jane Doe – from her belongings and from her murderer, who knew her in life. We also have accounts from people who encountered her in life. Investigators have utilized genetic genealogy to find El Dorado Jane Doe's distant relatives.
          As for what Jane Doe's true identity is, I was only  able to find one possibility based on the dates we know the El Dorado Jane Doe was active in her fake identities. Becky Annette Edmondson (last name sometimes reported as Minish) was 19 when she disappeared from Augusta, Georgia. The date was March 17, 1987. This would make her around 23 years of age at the time of El Dorado Jane Doe's death, which matches the estimates given by investigators. Other vital statistics such as height, weight, and eye color match. I do see some resemblance in the nose between Becky and the El Dorado Jane Doe, but it should be noted that the only photo of Becky Annette Edmondson available is very low quality.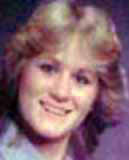 The circumstances of Becky's disappearance do give me a bit of pause when it comes to comparison. Her car was found on the side of a highway exit and showed signs of possible tampering, though the description of that sounds more like someone attempting to steal it after it was abandoned. She left all of her belongings behind and never picked up her paycheck from work. Signs point to foul play, but we have no concrete evidence of it – no blood in or around the car, no witnesses, nothing. As of the writing of this post, 55 missing persons have been ruled out as being the El Dorado Jane Doe. Becky is not one of them.
Theories
          There are two main theories as to why the El Dorado Jane Doe was on the run, and the first has at least partially been proven. The first theory is that Jane Doe ran away from her old life because she was in legal trouble. The second theory is that Jane Doe was a runaway and was forced to turn to a life of crime to sustain her new life. Both theories seem equally possible to me, and could possibly explain why we still do not have an identity for El Dorado Jane Doe. If she was a criminal or a runaway, then her family may not have gone through the process of declaring her as a missing person. If there's no missing person report, her Doe profile has nothing to be matched to. We're left with a trail of crime reports that dead end with no resolution. I also think that both theories are equally sad. It seems to me that regardless of her starting point, the El Dorado Jane Doe was likely forced into a life of crime to support herself, due to a lack of other options. 
Investigating Agencies
          If you have any information about the El Dorado Jane Doe, please reach out to the Union County Coroner's Office at 870-864-1903 im reference to case number 475-91. Alternatively, you can reach out to the El Dorado Police Department at 870-881-4800 and speak with Detective Cathy Phillips or Captain David Smith. The NCIC case numbers are U504897578 and M608593583. 
Sources