The Haunted: The Greenbrier Ghost
Have you ever heard of someone solving their own murder? Yes, we're talking about some beyond-the-grave sleuthing. The story I'm about to tell could fall into a few categories – it's part ghost story, part true crime tale, and part urban legend. This is the story of the death of Zona Heaster Shue, and how her spirit helped set things right afterwards.
The Victim
Zona Heaster Shue was born in the late 1830s (most often cited as 1837, though that is not definitive) in Greenbrier, West Virginia. Very little is known about Zona's life. It's alleged that she had a child out of wedlock around 1895 though, again, this was not well documented. In 1896, a drifter came to town. His name was Erasmus Stribbling Trout Shue (WHAT a name) and he ended up working for a local blacksmith. He and Zona apparently "fell in love" shortly after meeting. The pair married against Zona's mother's wishes.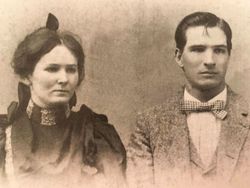 The Murder
On January 23, 1897, a boy running errands to the Shue home found Zona's body at the foot of the stairs. She was laying on her back, feet together, and one hand draped over her stomach. It is important to note that Erasmus Shue had sent the boy to his home in the first place. The boy ran and told his mother, who then contacted the coroner. In the time it took the coroner to arrive, Erasmus moved Zona's body to an upstairs bedroom, where he laid her on the bed, washed, and dressed her.
As the coroner examined Zona, Erasmus made a show of being distraught and not allowing the coroner to take a proper look at Zona's neck specifically. When the coroner attempted to get a better look at the bruises he saw there, Erasmus ordered him out of the house. During the burial, he stood at the head of the coffin, refusing to allow anyone to get close to the coffin. His moods shifted rapidly from wailing sadness to manic energy.
The coroner did not rule Zona's death as a homicide, though. At first, it was ruled to be a fainting spell (presumably meaning she fell down the steps) and then was changed to childbirth, which is strange…considering no one knew if she was actually pregnant. It should be noted that Zona's mother – Mary Jane – always maintained that Erasmus had murdered her daughter, having noted his increasingly strange behavior. Her opinion was only bolstered when she attempted to give Erasmus a sheet from inside Zona's coffin prior to her burial. Shue adamantly refused to take it. Mary Jane then took the sheet home and washed it in an attempt to remove a strange smell. The water turned red for a moment before the sheet turned pink and the water returned to its usual color. Mary Jane took this as an omen – her daughter had been murdered.
The Haunting
For four whole weeks, Mary Jane Heaster prayed that her daughter would return to her. She needed to know how her daughter's life had ended, and she thought the only way that would happen would be to speak to Zona herself. At the end of those four weeks, her prayers were answered. According to Mary Jane, Zona appeared in her dream one night. Zona's spirit was enveloped in a bright light, cooled the room considerably, and she spoke of her true manner of death. Dream Zona told her mother that Shue had broken her neck after a string of other abuses. What set him off, of all things, was that he believed Zona had failed to cook meat for dinner. This allegedly happened over the course of four nights.
The Investigation
When Mary Jane Heaster was convinced she had finally learned the truth of her daughter's death, she went to the local prosecutor to tell him the story. We obviously don't know whether the prosecutor believed the ghostly aspect of Mary Jane's story, but he was compelled enough to reopen the investigation by returning to key players and interviewing them again. When the coroner admitted that his examination had not been comprehensive, the prosecutor ordered Zona's body to be exhumed. Her body was taken to the local schoolhouse for a new examination.
Shue was vehemently against the exhumation and reexamination, though due to contemporary laws, he was required to attend the autopsy. Over the course of three days, it was found that she had been choked, with the windpipe being "mushed" and the neck dislocated. Shue was promptly arrested and charged with Zona's murder.
The subsequent trial revealed that Shue had been married twice prior to his marriage to Zona. He and his first wife divorced and she claimed he was incredibly abusive. His second wife died under suspicious circumstances, though I can't find what those circumstances were. The point is that Shue was a terrible, violent man prior to meeting Zona. He clearly did not change for her. Mary Jane testified to her observations of her daughter's relationship with Shue and how she felt about it. Allegedly, the defense was the one to bring up her daughter's visiting spirit, likely hoping to show Mary Jane to be not credible or unstable. However, this defensive strategy backfired spectacularly, and the trial ended with a life sentence for Shue.
Find a Grave (on both Zona's and Shue's profiles) claims that this case is the "only known case in which testimony from a ghost helped convict a murderer."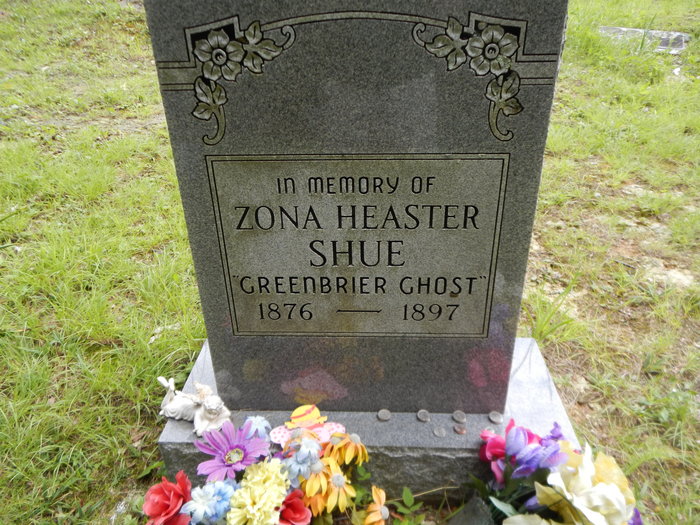 Sources